The PTAC Heating and Air Conditioning Professionals in New York City
PTAC units offer flexibility and are a cost effective heating and cooling solution for condos, offices, apartments, or any other smaller environment.  Arnica Heating and Air Conditioning Inc. is an expert in the installation, maintenance and repair of self-contained Packed Terminal Air Conditioning (PTAC) units. Experienced, committed to quality, and available to answer and questions you might have, we also offer one year repair guarantees and part and labor warranties for two years.
Contact Arnica today and discover more about our PTAC unit services.
Why Choose PTAC For Heating and Cooling Single Spaces?
If you are looking for an efficient and unobtrusive way to stay comfortable all year round, PTAC heating and air conditioning is certainly the way to go.  Self-contained units powered by electricity, PTAC systems are designed to operate in single rooms, such as apartments, hotel rooms and offices.

Able to be installed inside or outside on wall mounts, the minimal need for duct work and comparatively small size (up to 40 inches long) makes them ideal for light commercial and residential use.  Other benefits to packed terminal heating and cooling include: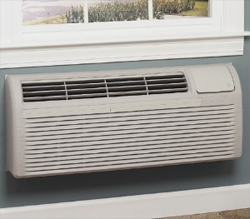 Energy Efficiency Ratios can be as high as 12.2 compared to window units.
Simple maintenance with removable and cleanable filters.
Smart controls allow for flexible running times and energy saving.
Electronic temperature limits prevent excessive use.
Trust Arnica With Your PTAC Heater Installation And Servicing
Arnica technicians are highly skilled in installing and maintaining PTAC heater units, and are able to offer a direct and effective service for customers across New York City.  We are dedicated to building relationships with our customers, and our years of experience mean you can have total confidence in anything we do.
Able to work with a range of different packaged terminal air conditioner brands, and across a broad range of property types, there is no question that Arnica is the obvious choice.  Our competitive rates, free estimates and guaranteed workmanship mean you can trust us to do a superb job every time.
We also Maintain and Repair PTAC Heater and A/C Units
Did you know that Arnica also helps maintain and repair PTAC units? The most cost-effective thing you can do with your PTAC unit is to have it maintained regularly. With heavy use, PTAC A/C and Heat units may require maintenance to ensure they are running at 100% efficiency. When you maintain your PTAC unit regularly, you not only prolong the life of your unit, but you will save money in energy bills as well!
If your PTAC unit is in need of repair, contact us! We have experience with all major manufacturers and products. If we didn't install the unit, that's ok! We'll come estimate your repair cost and fix the unit to get you back up and running ASAP to ensure you stay warm in the winter and cool in the summer.
Contact us today and see how we can help you with PTAC heating and A/C systems.